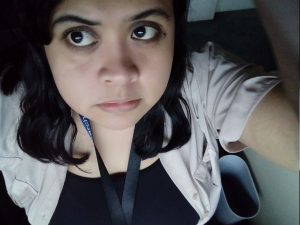 Yesterday–like the other day was filled with watery clouds, and heavy rain showers. It's the kind of day where I'd rather curl up in bed, and read–but not without something warm to drink…and eat. But alas, Wednesday being a working day, I was sitting in front of my desk, eating a crispy sandwich–the office cafeteria makes terrific crispy ham and cheese sandwiches.
That wouldn't be complete without a cup of hot dark chocolate–mmmm, yum! That completes my afternoon coffee break–sometimes with a group of friends, but usually a working break. The kind of break where you scan countless documents–that one would like to read if one has the leisure of time–but one doesn't usually have them. Instead, they are to be routed out as soon as (humanly) possible.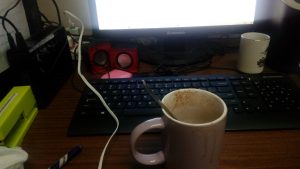 A slight fever and a terrible cold caused me to slow down. My boss allowed me to go home early, but at the rate the weather was going, I decided that I would be safer inside the office. The weather was much improved later during the afternoon. But before we get to that part–I spent a bit of time with some friends at work–sorry guys I hope I didn't spread any viruses, haha–after routing some documents to them. In a way, that made me feel a bit better. It was a different conversation when I got back to my room–tried to get some work done whilst being under the weather-but no, my nose got the better of me. I took a break instead.
So I went to the inner room of my (former) boss' office, and surveyed the view.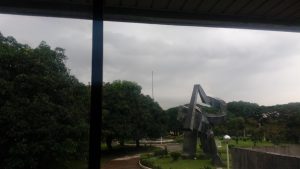 I have to say–in spite of the grey, wet, weather, the view still looks beautiful. Then again, the rainy weather holds a weird appeal to me, and to be honest, I have no idea why either. I am, however, grateful for the time that I could slow down for at least a bit..and take time to drink in the beauty that is around me–colds, fever, notwithstanding.
How was your day though, everybody?