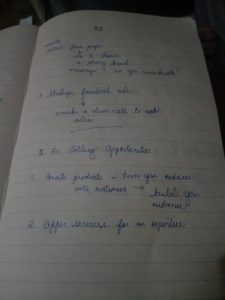 If you can't invest in yourself, no one else will. That's one thing I have learned in life.
I wanted to make my dreams a reality–no matter how long it would take me. This was why I took this training course a year ago.  It's hard to believe that it's been a year since I finished that course, but it has. And I am proud to say that I got a good grade for it–and I expected to get just a passing grade as I am not as well-versed in Chemistry and Physics as those in my group.
I wanted to learn new things too–and invested a lot of time and money to attend the workshops I've signed up for. So I was able to learn about ink calligraphy. And while I'm having a hard time with brush pens, I'm having fun learning how to control my strokes yet be flexible at the same time. I'll get the hang of it–one of these days! And in the previous post, I got myself a lettering starter kit–for the reason I took those workshops.
This time, I've invested my time and attended Arriane Serafico's courses–this one's a live masterclass on properly branding yourself–it takes more than just the fancy blog layouts, or the pretty Instagram shots, or the logo you've painstakingly created (oh hi, Photoshop!). It's about making a clear message of who you are, what you want to offer, and most importantly, your call to action. It's also about making your audience know who you are, like you, and then trust you. And man, that's a pretty tall order. But it's something that I am willing to take on, however slowly. While I cringe to think about how far I have to go along to achieve what I have envisioned, it was fun learning. Hopefully I could make that transition–applying what I have learned, and hopefully getting an audience–a loyal audience. It sounds lofty at the moment, but it's always worth a shot.
I am excited to make that transition. And I am excited to take you guys along.