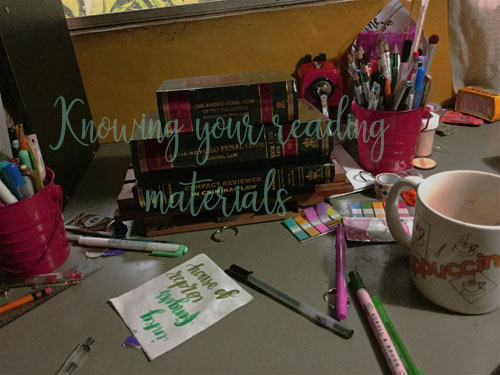 Hello! Hope you are all doing well! 🙂 If you're already in your first week of school, welcome to law school! I must say, this will be a rollercoaster for you–and that's just an understatement! But I hope that you will love your law school journey as I am loving it, right now.
This journey begins with your assigned readings. And boy, there will be a mountain load of them. No, I am not kidding. In order not to confuse you guys, I will be telling you all about the reading materials you will encounter and use throughout your life in law school. Ready? 🙂
On the top of the book stack is the codal, every law student's bible (Sorry, God! Your Bible is more awesome, though!). What's inside a codal? They're mainly provisions/articles of the law. For the law freshie, it is recommended that you have a copy of the three basic codals: The Constitution (and other related political laws), the Civil Code, and the Revised Penal Code (pictured above). So, what does the inside of a codal look like?
It looks like this.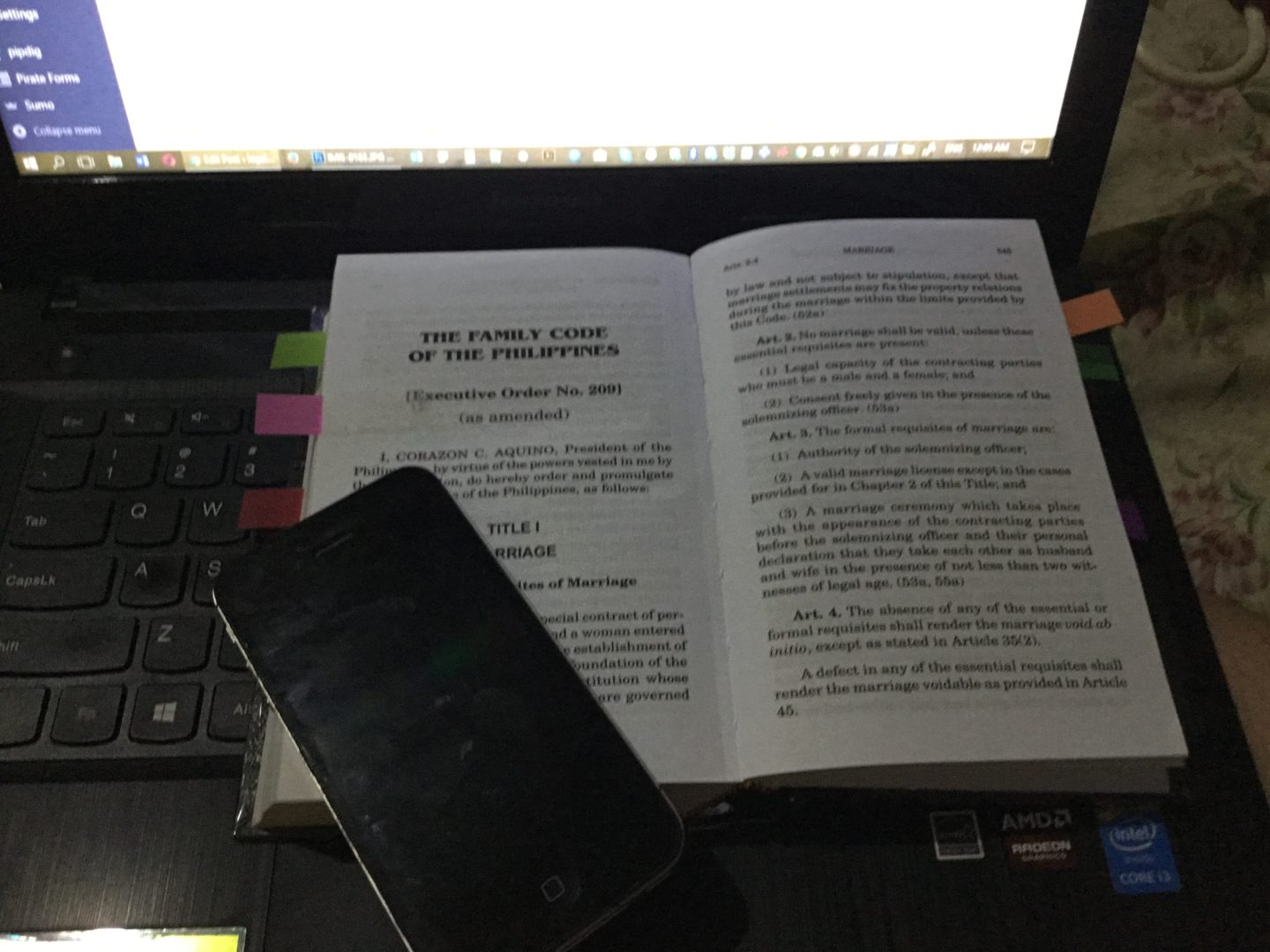 The content, of course, will differ depending on the subject.
Upperclassman tip: People from the second to fourth year recommend reading the codal provisions prior to reading the annotated textbook; then once more after the annotated textbook.
The annotated textbook,  the second book on the stack, is one of the required readings. There, you will read the notes or commentaries of legal luminaries–Supreme Court justices, among a few. I have three major subjects (major=Bar subjects) this semester–Constitutional Law 1, Criminal Law 1, and Persons and Family Relations.
my go to books: For Persons, I use Tolentino with Paras. Criminal Law is a no-brainer, Reyes' Revised Penal Code Book 1 is prescribed in almost all law schools across the nation–unless I'm very much mistaken! For Constitutional Law, I use Cruz, and Bernas as a reference.
Other recommended authors: Persons: Pineda, Rabuya, Sempio-Diy, and Sta. Maria
At the bottom is the reviewer. Used by law students of all levels–be it a fresher or a Bar candidate (fine, the latter is technically not a student anymore). Usually in a question and answer or outline format, this book is very much sought after for the student in need of something to jog his memory into remembrance, but does not have a lot of time  (read, me–haha).
I have those reviewers too! I have Jurado for Civil Law, although I would like a copy of the Rabuya and the Albano reviewers. For Political Law, I swear by Nachura's Outline Reviewer in Political Law.
I've yet to test Boado's Compact Reviewer in Criminal Law! I'll provide a book review after midterm exams are done, and that's a promise!
Jurisprudence, the collective term of cases decided by the Supreme Court. Also known as the additional readings assigned by your professor, for you to read as they serve as illustration–or rather, the application of the laws the student has read in his codal and annotated textbook. You can find them via the Supreme Court Reports Annotated (for cases/jurisprudence promulgated or decided on from 1960s onwards. For cases/jurisprudence decided or promulgated from 1901 to the early 1960s, the Philippine Reports Annotated is an excellent source.
What your professor wants you to remember: always READ THE FULL TEXT, and as much as possible, DO NOT RELY ON THE CASE DIGEST, especially those written or drafted by people other than yourself. Case digests are made or drafted for a specific subject or purpose. For example, the digest you read was for well, let's say Persons and Family Relations, but you are reading the case digest for Civil Procedure. The bad side effect is that you will get a different ruling for a different subject matter.
Memory Aids, pretty much has the same purpose as the reviewers–but please remember to read the annotated textbook and the codal first!  I have my preferences per subject area.  I use UST Law's Golden Notes for Civil Law and Political Law.  For Criminal Law, I use San Beda's Red Notes.
So there you have it–the list of reading materials and my personal go-to sources. But a reminder: wait for your professor's recommendation before you buy your books!
Good luck, and happy studying! 🙂