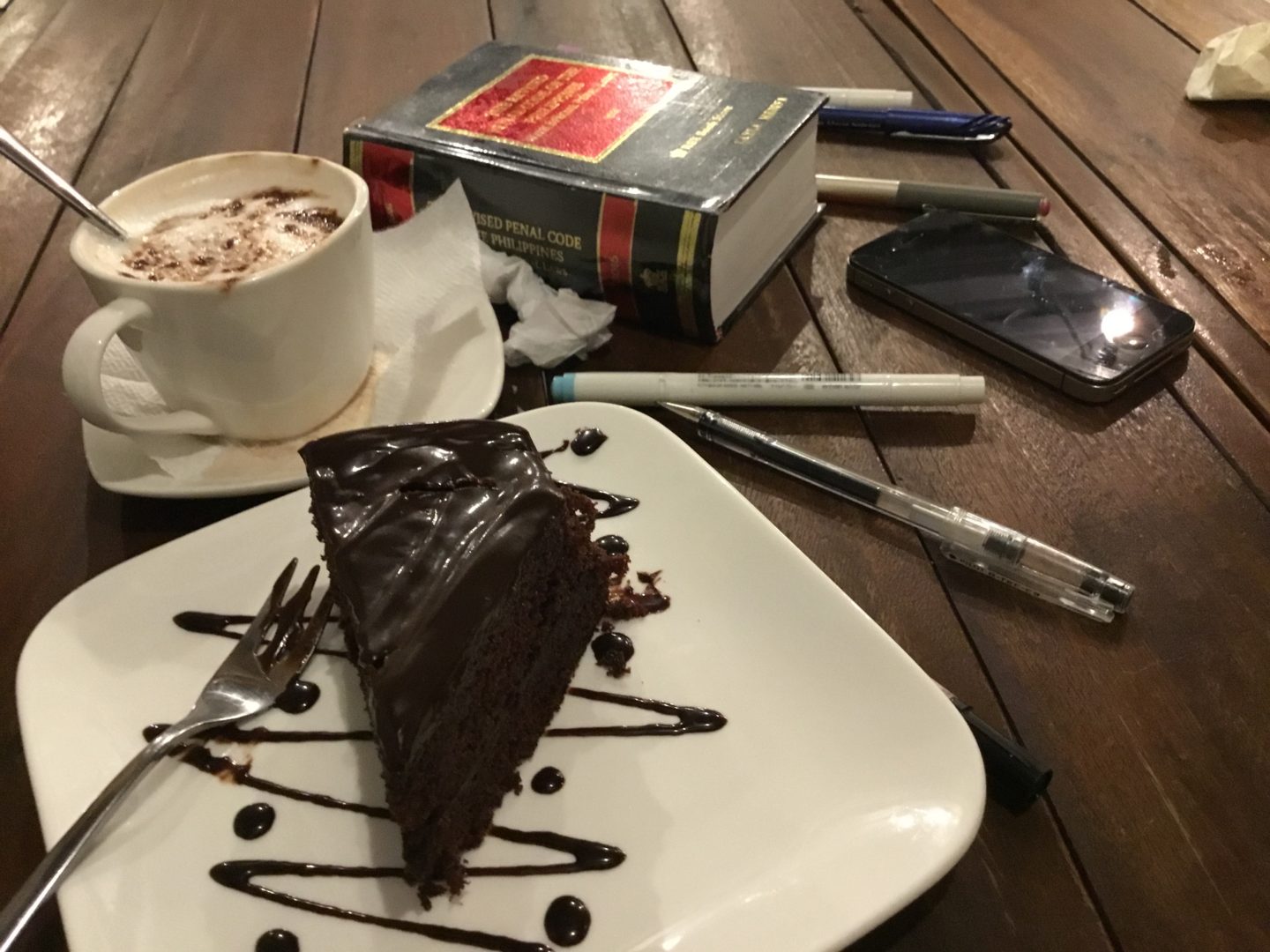 Phew–it's been a month since I've last updated–and I am sorry. Things have been so crazy busy at work and uni–but it's all part and parcel of life!
I'm nearing the end of term–or semester, rather. So my professors are now also almost wrapping things up–I'm preparing for a quiz in Criminal Law 1 next week–it's going to be the last, so I'll have to push myself harder. I know I've studied really hard back then–but after being called on recitations–or at least following discussions–laws on property relations, psychological incapacity for Persons and Family Relations; we've tackled the Judiciary and the Executive department recently for Constitutional Law 1–and by golly, it's all coming back to me now (cue in that Celine Dion song).
But I do think that I'm doing things differently now–I've started practising self-care. Meaning, I've learned to slow down. Back then, I used to study until the crack of dawn, or until the effects of coffee have waned. But now, I've learned to stop ignoring what my body is telling me. I used to be one of those people who would go, "Sleep is for the weak", and agree with my fellow law students that sleep should be sacrificed. But I've seen the evils of doing all-nighters and not relaxing–it's made me turn into Godzilla–ie, the most stressed out, horrible person ever. And if any other law student will tell me that I am doing things wrong–I'll them to back the f*ck off. Oops, pardon my Latin.
I'm sharing the things that have made me smile lately: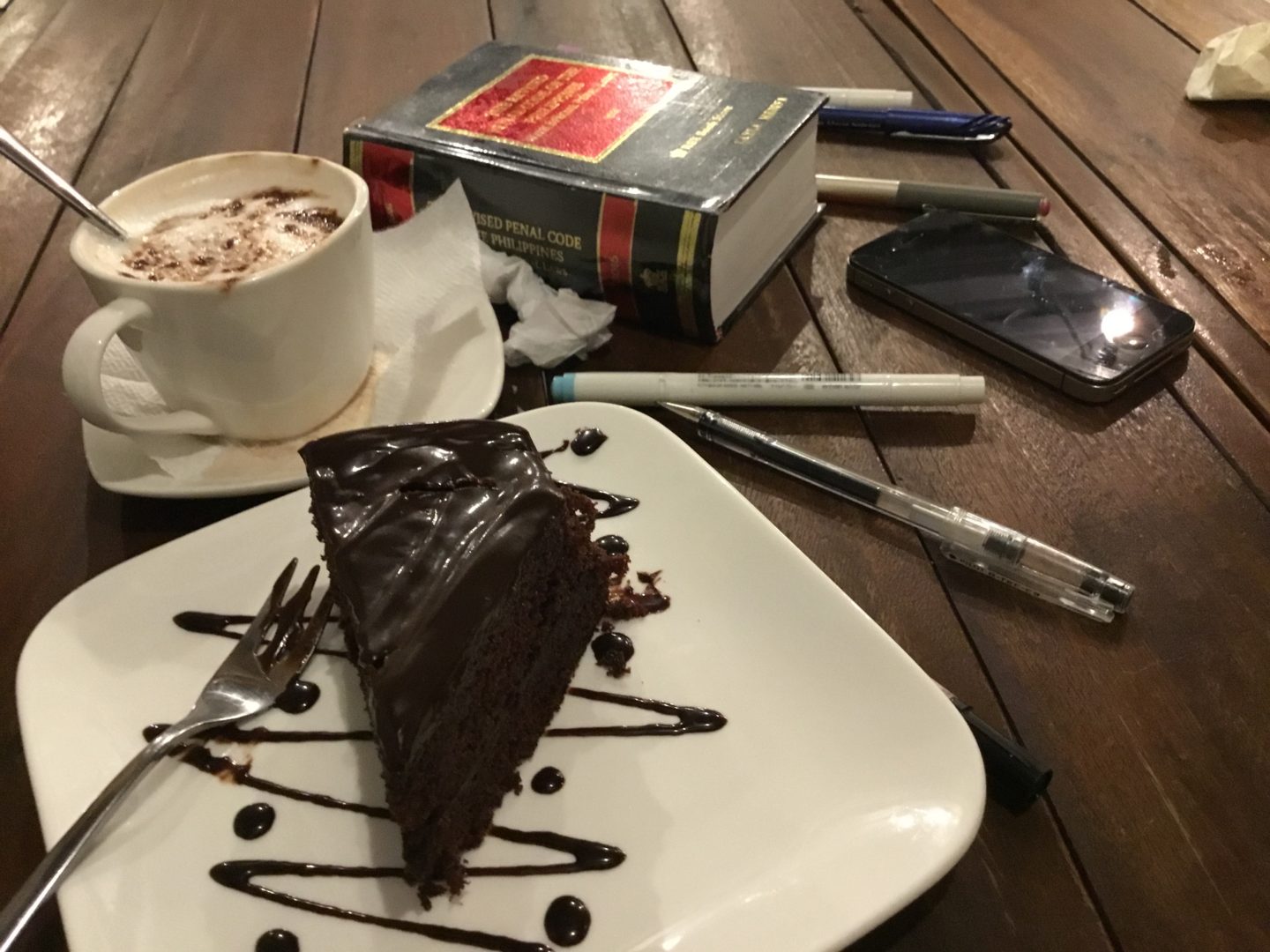 Comfort food: I've recently indulged in a bacon and mozarella cheese sandwich, prepared by yours truly.
Other food delights: A bag of cheesy-sweet bread sticks and a bottle of milk tea. Heaven.   A runner up would be the roast chicken and potato chowder from my favourite cafe. Or their perfectly scrumptious chocolate cake.
Favourite games: If you haven't tried downloading the game called Sumikko Gurashi, it's worth a try! It can be a bit stressful especially when you don't get to clear the puzzle, but it does relax me (in a weird way), and it makes my brain work at the same time.
If you love cats but are not within reach of one, Nekko Atsume might be right up your alley! The aim of the game is to "collect" cats. You don't have to do anything, just wait for them to visit your yard–and they will leave gifts too!
The Wikicast: I swear, this podcast is a sanity saver. Two lads talk about a random Wikipedia article, plus about other off-tangent things have made me smile more than once. Actually, smile is an understatement–I admit to have startled my boss by laughing out loud over something they said! If you're using a different podcasting service, such as Podbean, you can listen to them there too!
The Lost Art of Keeping Secrets, and The Misinterpretation of Tara Jupp, both by Eva Rice-Yes, I've managed to sneak in a bit of time to read those books! I've considered them my "reward" after my readings.  It is nice to step into a different world after work and uni. All work and play maketh Jill a dull girl. I'm pretty sure law students are not an exception!
I'm so happy to be able to blog again, after what seems to be donkey's years! What do you guys do on your downtime? 🙂